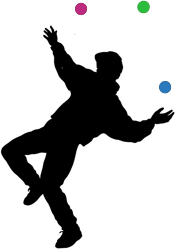 Suddenly, we all can juggle. But if you took the time to sit down a clown (highly recommended!) and ask him how he does it, you will likely get a story that involves hundreds of hours of practice. And some of us, no matter how hard we try, will never be able to toss – and catch – simultaneous balls in the air.
The majority of bloggers do not have the good fortune to blog full-time. That means there's the likelihood that when we blog, we are doing other things at the same time. Bad move. It's time to usher in the era of unitasking!
Multitasking is defined as "the concurrent operation by one central processing unit of two or more processes." It's a term that was originally coined for computers. Last time I checked, we all had beating hearts. We deserve more than a process that was intended for lifeless computers. And so do your readers.
To get the most out of a blog post, I recommend compartmentalizing each process.
Most bloggers I speak to start writing based on an idea or a sentence and watch it grow from there. After they clank out a paragraph or two, they wind up popping open a browser window to research something they are writing about, add links, or confirm facts. These are all an essential part of blogging success! But I am suggesting that you try writing the blog post, as completely as you can, before turning your focus to the other parts of the blogging process. They all have their place, and most of them can be conducted after the first draft is written.
You already know that I try my best to blog like a Buddhist and a big part of that lifestyle is to concentrate on one thing at a time. Put all of your thought and effort into the present moment and you will truly understand the implications of your work.
So when you write a post – write it.
When you search for an image – only search for an image.
When you proofread your work – print out the post and step away from the computer.
One thing at a time, my friends. At least try it ONCE and let us know how it feels.
After working for FOX News and MTV Networks, Andrew G. Rosen founded Jobacle.com, a career advice and employment news blog. He is also the author of The Exit Guide: How to Leave a Job the Right Way.