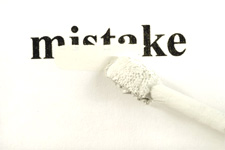 Most bloggers fail. And when they fail, they do so quietly.
This is not a negative post, rather it is designed to help you get in tune with what you are doing wrong; to reflect on your blogging mistakes. This involves examining metrics, perusing old emails, and taking a long hard look in the mirror. You might be thinking, 'why on earth would I want to dwell on failures!?' The answer is simple. Having the moments where you stumble fall into a Black Hole is a dangerous trap. It keeps mistakes out of your line of site, which is a dangerous place to be in. After all, isn't the ability to not repeat our mistakes a sign of intelligence?
I'll put my blogging failures out there for the world to see in order to give you a better understanding of the types of things you should be looking for. These stumbles have turned me into a better blogger, but that doesn't mean this is ain't gonna hurt.

FAIL #1: PREPARATION & SUSTAINABILITY
Before delving into a topic it is important to make sure you have a solid understanding of the subject matter. The beauty of blogging is that your work does not go into a void (though it can sometimes feel that way). That means you must be equipped with enough knowledge if you are challenged…no one likes being caught with their pants down!
Back in 2007 I challenged folks to live on the U.S. minimum wage for a week ($5.85 at the time). I had no goal, no agenda. I just thought it was 'clever.' The post did attracted quite a bit of attention, mostly from folks who felt that people should be happy to have a job – even if it only pays minimum wage. Looking back, they might have had a point. No matter what I believe, this was an important lesson for me. Before launching an idea it is not only important to understand what you are writing about and be confident in your knowledge, but you must be sure you can sustain it. What if people did choose to live on minimum wage for a week? How was I going to share their stories and help grow my blog's brand? I had zip, nada, zilch. That's the last time I'll ever let that happen. Lesson: Don't get blinded by your excitement. Only launch an idea when you are fully prepared.
FAIL #2: TAKING A JOB I COULDN'T HANDLE.
My intentions were nothing but good when I accepted a job as a daily ghost blogger for a major consumer website. The problem was, I had recently been promoted and had a new set of time-demanding functions. And in reality, I simply did not have the time or an interest in the topic. I was lured by the prospect of a new steady income stream and committed before looking at the full picture, including the resources I had to devote. The gig was over before it started and turned a potential future contact into a burned bridge. Lesson: Be honest about the time and resources you have to commit to a blogging project. You might be better off taking on less than becoming overwhelmed.
FAIL #3: THE JOB I DIDN'T TAKE
A simple email exchange a million years ago with a young and budding blogger named Peter Rojas reminds me of the one job I kinda wish I took. It was a chance to join the Engadget team when the site was in its infancy. This could have been a wise, and lucrative, career move. We'll never know. I don't live with regret because everything happens for a reason, but I'd be a liar if I didn't admit I once in a while wonder 'what if' I started blogging earlier in my writing career. Lesson: If you believe in a blogger's work, taking a leap of faith could be worth your time.
Additional blogging lessons.
In closing, I would like to encourage you to take on the exercise above and outline your blogging failures. You can leave them in the comments section below or keep them to yourself…just learn from them! And if you are not failing spectacularly, then you are likely not succeeding.
After working for FOX News and MTV Networks, Andrew G. Rosen founded Jobacle.com, a career advice and employment news blog. He is also the author of The Exit Guide: How to Leave a Job the Right Way.