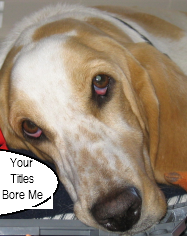 Blog post titles are like little ads that can do three things:
1. Entice people to read more.
2. Encourage people to click away.
3. Lull them to a state of inaction.
If you want your blog to grow and be successful, then you want your blog post titles to achieve #1 in the above list — entice people to read more.  In other words, your ad should intrigue people enough that they stop what they're doing in their busy days to keep reading.  It's not as easy as it sounds, but if you learn to write great blog post titles, you've reached a success milestone that many bloggers aspire to but never attain.
The key to writing great blog post titles is to avoid doing the things in crafting titles that achieve #2 and #3 in the above list — encourage people to click away and lull them to a state of inaction.
With that in mind, following are 3 ways your blog post titles ruin your blog.  Avoid them at all costs!
1. Ignore keywords.
Search engine algorithms value keywords in blog post titles highly.  While you don't want to stuff post titles with keywords or use keywords in titles where they don't belong, it is important to try to include them when it's appropriate.  They can make a difference in sending some extra search traffic to your blog.  Not only that, but those people who arrive at your blog post via a keyword search are likely to be interested in your post (assuming the post title appropriately used that keyword) and stick around to read more.
2. Trick people.
The classic bait and switch is detested in blog post titles just as much as it is anywhere else.  Don't promise people something in your blog post title then deliver something completely unrelated in your post content.  People won't fall for that trick a second time.  In fact, they might spread the word to their friends and online connections.  That's a reputation you don't want to get.
3. Bore people.
Your blog post titles need to capture the attention of people who are quickly clicking through web pages and have little time to spend on anything that doesn't appear to immediately meet their needs or set off the "Hey, this is cool" bells in their heads.  A boring blog post title will get looked over, ignored, bypassed, and any other synonym for skipped that you can think of.  Don't let readers get away!  Instead, pique their interest with blog post titles that stop them in their tracks and make them curious.
What do you think are the worst things bloggers can do when writing blog post titles?  Leave a comment and share your thoughts.
Susan Gunelius is a published author and President & CEO of KeySplash Creative, Inc., a full-service marketing communications provider also offering branding and social media consulting services. Susan also speaks about marketing, branding and social media at events and conferences. Her marketing-related articles have appeared on Web sites such as Entrepreneur.com, Forbes.com, MSNBC.com, BusinessWeek.com, FoxBusiness.com, and more.