Even in our day and age many people still wonder whether websites can be trusted and whether online shopping portals are scams or genuine services. Over the last years several security focused software companies have built new portals allowing the visitor to check the 'trust worthy history' of websites but most internet users are not aware of the existence of these sites.
A Safe Site makes the action to check the trust rank for the user very easy and fast: all you need to do is enter the website URL or better even use the browser toolbar link to receive results from Web of Trust, Google Safe Browsing, Norton Safe Web, McAfee Site advisor and also Alexa site info. The results are displayed in a simple layer and can easily be navigated.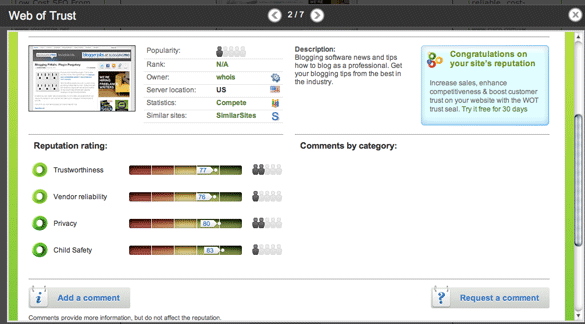 Thanks to a collaboration between A Safe Site, and Free Trust Seal, sites can place a free trust badge on their site, which when clicked displays the trust ranking of the site.
The importance of a good trust result, displayed visibly, will not escape any owner of an e-commerce or online service provider.
All in all, A Safe Site is a mash up of valuable services but with probably a little too many ads and too well hidden services. Navigating and using the site resembles a game of 'Tag, you're it. Find the services offered on site but the limited number of checks provided can be useful, especially to the internet user who aren't too net-savy and aren't sure whether they can spend money at a certain site or allow their kids to browse the site.
Personally I would probably not use the service offered by A Safe Site but I really hope my grand-parents do when they spend their first money to purchase something online. If you administer the computer of anyone new to the internet, drag the A Safe Site bookmark to their browser toolbar and explain them the importance of double checking whether sites are trustworthy or not.