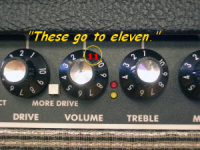 Writing great content is essential to attracting visitors to your blog and keeping them on your blog for more than a few seconds.  The last thing you want to do is drive them away before they even have a chance to read that great content.
If you want to drive people away from your blog quickly, do the five things listed below.  If you want people to stay on your blog long enough to read what you painstakingly wrote, avoid the five things listed below at all costs.
1. Frighten them with sound.
Want to drive people away from your blog faster than you can say 'boo'?  Add an audio element to your blog and scare their pants off when they arrive!
2. Test their patience with slow loading images.
Want to really annoy people who visit your blog?  Fill your blog with images and don't bother to save them to web-friendly sizes, so they take forever to load on screen.
3. Stop them in their tracks with barriers and gateways.
Want to put on the brakes before visitors can read a word of your content?  Require visitors to register with their names and email addresses to view your content or access parts of your blog.
4. Block your content with ads.
Want to really irk your visitors?  Cover your content with pop-up ads, floating ads, or expanding ads.  Not ready for interactive ads yet?  No problem.  Put so many ads on your blog that it's impossible to find the real content amid the clutter.
5. Ignore them by never updating your content.
Perhaps the easiest way to drive visitors away from your blog is to do nothing at all.  That's right!  Don't bother updating your blog.  Don't respond to comments.  Forget it exists, and visitors will, too.
What drives you away from a blog before you even take the time to read the content?  Leave a comment and air your grievances.  We're celebrating Festivus early this year.
Original image: stock.xchng
Susan Gunelius is a published author and President & CEO of KeySplash Creative, Inc., a full-service marketing communications provider also offering branding and social media consulting services. Susan also speaks about marketing, branding and social media at events and conferences. Her marketing-related articles have appeared on Web sites such as Entrepreneur.com, Forbes.com, MSNBC.com, BusinessWeek.com, FoxBusiness.com, and more.