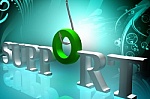 Back in the day when I was a little more ambitious about my health goals, and had more time to devote to maintaining my girlish figure, I joined a health club.
I would work out weekly.
I found that being surrounded by folks with similar goals and interests served as a great motivator and support system. We would share laughter and woes, and serve as each other's cheerleaders.
The same opportunity exists for bloggers wishing to connect with like-minded people who are in the same niche group, of the same gender or profession, and have similar passions or platforms.

The ticket? Blogging communities.
As one popular adage states, "There is strength in numbers."
If you want to increase your exposure, build important alliances, learn from others who have embarked upon the same path, or reap other important benefits, blogging communities can help strengthen your blogging experience.
Here are a few things that they have to offer.
1. Many blogging communities have "member benefits" such as promotion of your book, event, class, or other activities for free, or at a significant discount.
2. The potential exposure through connections can cause an increase to traffic on your personal blog, providing you with greater visibility and impact.
3. Success by association—Who wouldn't like to be associated with others who have achieved great levels of success as authors, prominent business people, and Internet influencers?
4. You can have your blogging/writing questions and concerns addressed through community bulletin boards and chats, minimizing the need for extensive online research.
Here are a few examples of blogging communities.
Blog Her.com — http://www.blogher.com/ As the name implies, this is a forum for women that offers support, networking, and a directory for members.
Midlife Bloggers—http://www.midlifebloggers.com—Addresses issues relevant to those in life's "transition" stage.
Gather.com—http://www.gather.com/—Members share advice, expertise, commentary, and the potential for paid opportunities.
What's your opinion on blogging communities? Have you ever been a part of one?
Image: Renjith Krishnan

Jennifer Brown Banks is a veteran freelance writer, popular relationship columnist, and Pro Blogger. When she's not immersed in the world of words, she digs simple pleasures like cooking, Jazz music, Karaoke and a good cup of tea. She is the former Senior Editor of Mahogany Magazine.