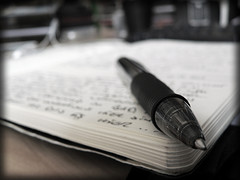 If you've written or blogged for at least a few months, you know that inspiration comes and goes. It's not always lack of ideas that stop you from getting that next blog post out — often it's having too many ideas and having doubts about what to write. Here are a few tips to spark some blogging inspiration, that have worked for me in the past.
Scanning For Ideas
The first step is scan for sources of ideas. Yeah, I know that I said you might have too many ideas, but we'll take care of that in the next section.
Scan the blogosphere. The first thing I usually do to start a blogging day is check my favorite aggregators and portals. I like to use Techmeme, Alltop, YourVersion, Google Reader. Depending on the niche that I'm blogging, I might check other similar tools or have my own custom aggregators that I've built in WordPress.