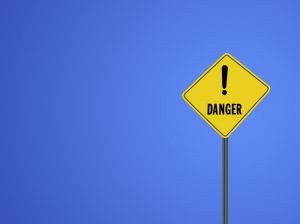 Did you know there are some very simple things you can do on the social Web (and you might already be doing some of them) that can get you blacklisted, meaning you'll be labeled as an annoyance, a person to avoid, or worse — a spammer?
Suffice it to say, if you want your blog and your foray into blogging to be successful, then you need to avoid the 5 ways to become a blacklisted blogger described below.
1. Fill your blog posts and comments on other blogs with links.
If you want to annoy people or be labeled a spammer, then fill your blog posts and the comments you leave on other blogs with links.  This includes links back to your own site as well as affiliate links, text link ads, and so on.  Links should enhance content.  They should not detract from it making it impossible to find the links that are actually useful vs. those that are just self-promotional or revenue-generating.
2. Only talk about yourself.
Follow the 80-20 rule where 80% of the content and conversations you publish and participate in on the social Web are not self-promotional and 20% or less are self-promotional.  No one wants to read what you have to say if all you ever do is talk about how great you are or your business is and try to sell your products or services.
3. Republish other people's content without permission.
Don't plagiarize.  The original publisher of that blog post, article, or image that you want to republish on your blog spent time and effort creating it.  They deserve the credit for their work.  While it's okay to republish a snippet with appropriate attribution to the original publisher (i.e., a link back to the page where you originally found the content you're republishing) in order to add commentary to it, you don't want to be accused of copy scraping (a spam technique that can hurt your blog's search engine referral traffic and your reputation) or a plagiarizer (which is illegal).
4. Put ads before content and conversation.
While ads are a nice way to make some money from your blogging efforts, they should come in second place behind content and conversation in terms of your blogging priorities if you're goal is to build a successful blog.  Ads can be intrusive and clutter your blog making it difficult for visitors to find the useful and valuable content that you publish.  No one wants to return to a blog that's filled with ads but little original content (plus, filling your blog with ads and very little original content is viewed as a spam technique by Google and can hurt your blog's search referral traffic).
5. Forget your words can be viewed by a lot of people for a long time.
Play nice!  The content and conversations you publish today can spread far and wide, and it lives online for a very, very long time.  With that in mind, don't speak negatively about other people or businesses, don't participate in online arguments, watch your language, and don't publish pictures of yourself drunkenly dancing on the table at your office holiday party.  Instead, spend time publishing content and participating in conversations in a manner that helps you build a positive reputation across the blogosphere, because your reputation precedes you on the social Web.
Image: stock.xchang
Susan Gunelius is a published author and President & CEO of KeySplash Creative, Inc., a full-service marketing communications provider also offering branding and social media consulting services. Susan also speaks about marketing, branding and social media at events and conferences. Her marketing-related articles have appeared on Web sites such as Entrepreneur.com, Forbes.com, MSNBC.com, BusinessWeek.com, FoxBusiness.com, and more.