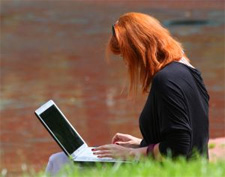 One of the things I love about writing is that I can do it from anywhere. Whether I'm perched atop the Himalayas or laying poolside in Vegas, all I need is a pen and paper and a money-making creative purge is right around the corner. That's a sexy thought, one that has spawned many people to consider blogging as a full-time career as office life dies a slow death.
As I write this post I am looking out on a calm river and swan-laden pond. The majestic green trees are punching through the blue sky and the peaceful sound of nearby waterfalls have lulled me into a Zen-like state.
The words are flowing.
All is right with the world.
Buzzzzzzzzzzzzzzzzzzz.
Since all good things must come to an end, a loud buzzing bee has decided to abruptly interrupt my writing rhythm. Never one to swat a bug, I remind myself that I am in his "house" and I march on. I am able to pick up where I left off and crank out another few paragraphs.
Buzzzzzzzzzzzzzzzzzzzz.
He's back, and now he's circling my head. I retreat inside, slightly irritated that my moment of peaceful writing has been interrupted. After a few minutes of peering outside the glass door I surrender. I'll be trading in the hot sun for the light of a 75-watt bulb so I can meet my deadline.
Once I get my focus back, I finish the blog post with ease. Truth be told, it was easier to write under "normal" indoor conditions.
In the past I've encouraged bloggers to take their show on the road and give outdoor blogging a try, but if this past weekend was any indication, I might be changing my mind.
Where do you blog best, indoors or outdoors?
After working for FOX News and MTV Networks, Andrew G. Rosen founded Jobacle.com, a career advice and employment news blog. He is also the author of The Exit Guide: How to Leave a Job the Right Way.