Over the past few weeks I've had the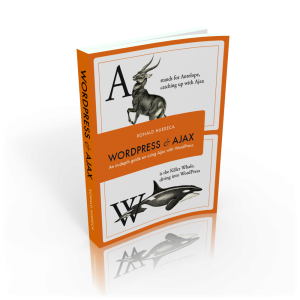 privilege of reading an excellent WordPress book titled, WordPress & Ajax by Ronald Huereca which has led me to write this in-depth review; and I must say that it has been added to my developer's book arsenal. Being a developer myself, although new to Ajax, I welcomed the opportunity to learn more and advance my skills towards developing my own dynamic themes and plugins enhanced by Ajax.
Although it took me a few weeks to read because of my busy schedule, WordPress & Ajax is a mere 251 pages with 15 very relevant chapters. There is not a single page wasted as Ronald seeks to help his readers master the beautiful art of Ajax and WordPress.
Who Needs This Book?
As Ronald rightfully gave his warnings in the introduction, this book is not for the faint of heart or the not so tech savvy. It is an absolute requirement that you have prior knowledge of PHP and jQuery at the intermediate level to have any understanding of the techniques being taught. There is very little mention of the basics of Ajax itself so Ronald gets right to the point and tackles the major and minor requirements for developing functional and compatible Ajax driven WordPress themes and plugins.
The Key Features
Ronald has gone the extra mile to ensure that readers of his book develop at the highest standards by giving concise directions and expert insight on how to do so. WordPress and Ajax provides tons of practical and comprehensive code examples to get the job done while covering key areas such as: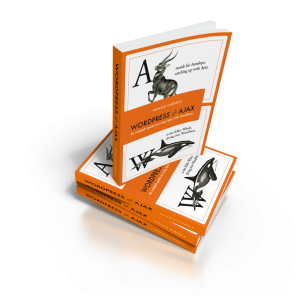 Compatibility
Maximum Security
Ajax Best Practices
Adding Scripts Correctly to WordPress
Speed & Efficiency
Functionality & Relevance
Localizing Javascript files
Useful & Unique Debugging Techniques
All his guides are focused on jQuery, WordPress & PHP. Personally, I find it difficult to learn new concepts without real examples and Ronald completes his work excellently by showing us how he greatly improved and created the plugin WP Grins Lite and how he constructed the Static Random Posts widget with Ajax capabilities as well as how to integrate Coupon Codes with dynamic Paypal Buy Now buttons. This puts the icing on the cake for me and offers that extra encouragement to start improving and developing Ajax driven plugins.
Ronald ingeniously shares his knowledge from his personal and unique experiences with Ajax, PHP and jQuery along with his witty and often humorous writing style that makes very technical tasks as easy as possible on the brain. Each chapter flows naturally with quick and easy reference to previous points, notes and code requirements.
The Conclusion
WordPress & Ajax is not for everyone to pick up and grasp and is specifically for the focused WordPress plugin and theme developer who wants to add some dynamism to plain old development and design. If you do have an intermediate knowledge of PHP and jQuery though, Ronald's book will definitely help push you to the next level of WordPress development.
Pricing
WordPress & Ajax is priced at an affordable $24 and is a reasonable investment for the aspiring Ajax theme and plugin developer. This provides unlimited updates that are sent via e-mail.
So, If you've been itching to get your hands dirty with some serious code and make your mark in Ajax and WordPress development then this book is a Must Buy!
Robyn-Dale Samuda is a Web Developer & is owner of Yuraki, a Website Development, IT Consultation & Online Marketing Firm in Jamaica. He has a passion for the web and helping clients achieve more online.