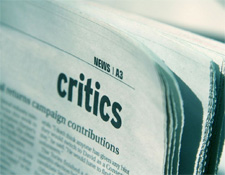 For better or worse, bloggers put themselves out there, on display, for the entire world to see. And unlike professional athletes and Hollywood stars, we're not compensated for criticism. But we get it anyway. Sometimes it's harsh. It's actually a small price to pay for having the freedom to do something you love.
Some bloggers are timid writing types, the kind of folks who shy away from confrontation. Others are 'computer tough guys,' writers who are looking for trouble by stirring the pot. The reality is that even the best writer has an off day. Spelling errors: check. Typos: check, check. Grammar problems: check, check, check.
When someone publicly (or privately) calls you out for content, style or syntax, take a deep breath and follow these guidelines.
– It's about THEM, not you. We're talked before about the types of people that leave comments, so you already know that in the majority of cases, people are leaving comments for themselves. Your mom probably taught you that you shouldn't take things personally. If someone leaves a snarky, or downright mean comment, I just tell myself that they are having a bad day. Heck, maybe they are having a bad life! I remind myself that I am lucky to be in a better place and actually wish them good fortune.
– Step away. When you get called out for making a mistake or are challenged, it might be your instinct to stand up for yourself and come out swinging. It's important not to react right away. Fight the urge to respond. Go for a short walk, grab a cup of coffee or move on to another project. Come back a little later and see if the comment is worthy of a response. Keep in mind that if you are nasty or condescending in your response, you should expect another comment from the original poster. This can lead to a war of words that benefits no one. (On rare occasion, these battles can attract a heated debate amongst readers and grow blog traffic, but that is the exception).
– Keep moving. A negative comment directed at you can easily break your momentum. An hour ago you were confident that you and your blog were on the road to world domination. Suddenly, you're filled with doubt. As a blogger, you already realize how important it is to ride a 'hot streak.' Don't let a stranger you know nothing about have the power to break your stride and distract you from your core work. Like an army ant, keep moving forward!
– Remove it. I'm a big believer that both good and bad comments should remain on your blog. However, if you find a comment so irksome or hurtful that it's bugging you a week after it was left, remove it! Blogging has no hard and fast rules, only strategies. You control your own domain, and need to look out for #1 (that's you, by the way!).
– Kill them with kindness. When responding to blog criticism, hold your head up high and stay true to your values. Don't make excuses or get defensive, rather, thank the commenter for the feedback in a polite fashion and be grateful that they took the time to read your blog and leave a comment.
Still think you need a thicker skin? Check out this article from Psychology Today.
How do you cope with criticism?
After working for FOX News and MTV Networks, Andrew G. Rosen founded Jobacle.com, a career advice and employment news blog. He is also the author of The Exit Guide: How to Leave a Job the Right Way.