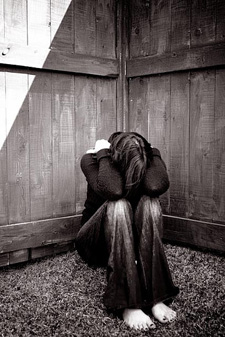 It happens to the best of us. We start our blogs with childlike enthusiasm, super geeked to have our own online "space" that is totally ours and where we can finally be heard and uncensored.
Let's face it, in real life our words of wisdom often fall upon deaf ears. Our mates have us on "mute" buttons, our kids think we're from a different world, and our families know too much about us to care.
But on line we can strut our stuff, be the divas we dare to be. We can even take on a whole new personality if we choose.
So you start this blog thing, and actually find that some folks are digging what you have to say. Okay, so maybe it's just the creepy guy with stalker tendencies that lives in your building, and your Avon rep, but still, it's somebody.
Because practice often makes perfect, you find that the more you blog the better you become. Then 2 "fans" become 5, 5 become 10, and 10 become 20. You hit your stride and then people start talking. Before you know it, you've actually built a little "following" along the way.
Then comes the pressure…
At least that's how it was for me. In the beginning I blogged for me. Don't get me wrong, I wanted to share with others and make connections, but it was the one type of writing that was not subjected to editors' scrutiny or writers' guidelines, or politically correct protocol. My motto was "love me or leave me."
Somewhere along the line, and much to my amazement, I was drawing the attention of some folks and fans that were a bit intimidating. Through the "Google Connect" feature, I could see the profiles of teachers and professional journalists, men and women, Blacks and Whites, and people from other countries, oh my!
And I accidentally started to love it.
That's the upside.
The down side? I started to suffer from online "stage fright".
I began to over think things…
What if I run out of interesting things to say? Or piss somebody off? Or don't hit a home run each time I come up to the plate? These questions plagued my mind and kept me up way past my bed time. And perhaps they're questions that you entertain too.
If so, here's how to relieve the pressure and increase readers' pleasure.
Relax– It's not a do or die proposition if you misuse a preposition or use an expression that baffles someone, or misspell an occasional word. Have fun! The more in the moment you are, and the more you enjoy yourself the more others can enjoy you.
Don't compare – Sure other blogs may have more fans or more comments, or more Ads, but so what? It's not a contest.
Never apologize for who you are or what you say – That's the beauty of blogs – your words, your views, your vision. Have people to accept you on your own terms.
Be playful – Even professional blogs benefit from a little humor and fun poking (as long as it's not malicious).
Don't get bogged in the blog – If you're feeling overwhelmed and under pressure, consider having guest bloggers to periodically post to your site to give you a needed break without losing your audience.

Follow these five tips to enhance your readers' blog experience and to reduce episodes of performance anxiety. In the words of a popular commercial, "Never let 'em see you sweat."

Jennifer Brown Banks is a veteran freelance writer, popular relationship columnist, and Pro Blogger. When she's not immersed in the world of words, she digs simple pleasures like cooking, Jazz music, Karaoke and a good cup of tea. She is the former Senior Editor of Mahogany Magazine.