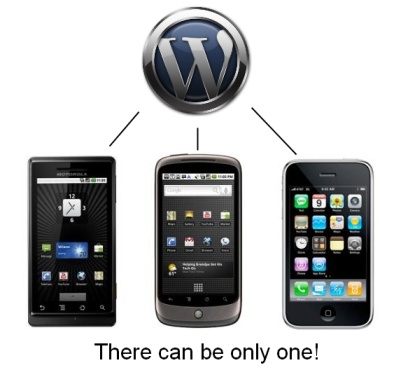 After initially releasing WordPress 1.0 upon the iPhone many moons ago, Automattic seems to be spreading the love by creating WordPress Apps for Android lovers and Blackberry fans.
Although I am grateful for their latest update for the iPhone, it became apparent that not all WordPress Apps were created equal, with some mobile platforms receiving extra attention in the "feature department" than one notable other.
Whether this has to do with the nature of the app stores themselves (i.e. Apple's aristocracy vs Google libertarianism) is unknown, although here is a brief chart comparing the apps against each other, which may make a few geeks "iJealous."

WordPress for Blackberry
Of all the WordPress apps on any mobile device, WordPress for Blackberry has the most features–not to mention the fact that it's the only one that currently embraces VideoPress.
The fact that the Blackberry app also supports custom fields puts it ahead of its brethren, with the additional "more tag" (aka post expandable summary) rubbing salt into my iWound.
WordPress for Android
WordPress for Android is the only WP app thus far to support basic WYSIWYG (bold, italics, links–even block quoting!) and there are even future plans of adding WordPress stats as well as VideoPress support later on.
As far as I can tell there are currently no plans to add custom fields as well as the "more tag" within the upcoming app, although I would not be surprised to see these released down the road.
WordPress for iPhone
The only advantage WordPress for iPhone has over its younger brothers is the user interface (which looks like it was actually designed by a caring artist instead of an engineer).
Despite my suspicions that VideoPress will eventually migrate over to the app, I have given up hope that a decent WYSIWYG editor will ever appear within the app (as the link assistance feature can only go so far).
Conclusion
Currently the Blackberry app demolishes its rivals, although I suspect that over the next few weeks we will see the Android pull ahead as the stronger app of the three brethren.
As far as the iPhone WP app goes, I hate to say it but it looks like Apple (for the first time) has the weakest blogging app compared to its rivals–which might signal a shift away from Steve Job's playground towards more open mobile fields.
Author:
Darnell Clayton
Darnell Clayton is a geek who discovered blogging long before he heard of the word "blog" (he called them "web journals" then). When he is not tweeting, Facebooking, or blogging about space and his beloved iPhone, he enjoys running, reading and describing himself in third person.