Have you ever tried to cook a steak without checking the time, temperature and (most importantly) the steak itself?
As silly as that sounds, the same is true when it comes to analyzing your blogs traffic and stats, which can provide invaluable feedback on the health of your blog.
For those fortunate enough to have an iPhone, here are four apps you should consider owning.
Analytics App (price: $5.99)
If you are a Google Analytics freak (note: I say that in love) then you will enjoy this app.
Although Analytics App does not have the greatest user interface (when compared to rivals like BAM Analytics), it does offer one feature that you will not find elsewhere on the app store–the famous "Today" stats, allowing me to view stats that happened today, rather than glimpsing at yesterday's traffic.
Analytics App supports multiple accounts and despite the steep price, is worth every penny.
iEarn ($1.99)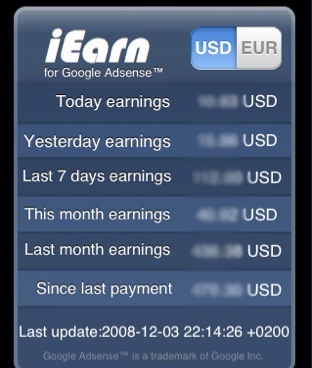 Believe or not this is NOT my favorite AdSense App (truth be told SenseEarn is).
However, with iPhone password cracking slowly gaining popularity, I have made it a general rule that all financial apps require an "in app" password for security reasons, a feature iEarn has (that it's rivals do not).
Security aside, iEarn does contain a few interesting features, the main one being the ability to see your earnings in different currencies.
While basic compared to other apps, the developer is promising to add extra features (RSS, search and mobile earnings) which should make it more appealing for stat geeks (like me).
Stat Fever ($0.99)
Created by Paranoid Ferret Productions, Stat Fever is in my opinion one of the best apps for FeedBurner addicts.
Stat Fever allows you to analyze your subscribers via graphs and numbers (the former which I'm a huge fan of).
While not much has changed since I last reviewed this app (which is unfortunate), Stat Fever still retains its crown as one of the most elegant and powerful FeedBurner apps thus far.
Statistics for WordPress ($2.99)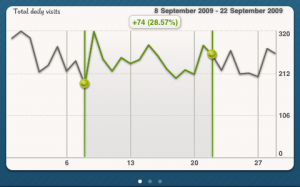 For those of you sporting the WP brand (and fear Google "knowing" everything about your blog), Statistics for WordPress is a perfect alternative to Google Analytics, and perhaps has the best user interface as far as analytics apps go.
What I like about this app is that it supports multi-touch, allowing you to compare different data points (which is useful if you're trying to spot a trend).
Any others?
To my sorrow I was unable to find apps supporting a few other analytical apps or ad networks (i.e. for Yahoo! Publisher, Pheedo, Sitemeter, Quantcast, etc.),  although hopefully more will appear (unless they are all holding out for the upcoming iPad).
Author:
Darnell Clayton
Darnell Clayton is a geek who discovered blogging long before he heard of the word "blog" (he called them "web journals" then). When he is not tweeting, Facebooking, or blogging about space and his beloved iPhone, he enjoys running, reading and describing himself in third person.