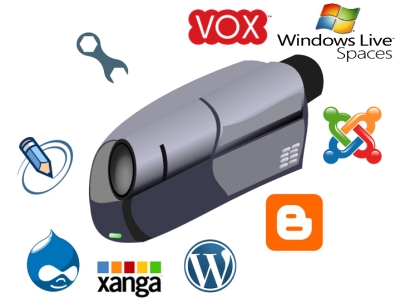 Last year I wrote a post lamenting about the lack of video blogging apps for the iPhone, especially after Apple launched the iPhone 3GS (not to mention allowing video apps for 2G and 3G iPhones).
Unfortunately the number of iPhone blogging apps embracing video has not improved since then, despite the fact that video editing apps are now appearing within Steve Job's  backyard (read App store).
After a very long search upon the app store, I was able to locate several apps embracing video blogging (or as some call it, "vidblogging"), as well as a few for Android freaks (that I have discovered online).
Tumblr (iPhone: Free, Android: UK£0.99)
Sometimes described as a cross between Twitter and a blog, Tumblr thus far is the only official blog company to fully embrace video blogging.
The official app also embraces podcasting too, although due to Apple's ridiculous "we hate flash" stance, you can not play them on your iPhone.
To my knowledge there is no official Android App for Tumblr, although users can purchase Tumblroid for a small fee (which also supports video)
BlogPress (iPhone: $2.99)
BlogPress is perhaps one of my favorite video blogging clients due to the fact that I can easily insert multiple videos (as well as images) within a single post (a feature lacking from most vidblogging apps).
The app was anointed by Google last year to represent Blogger on the app store, although their premium app also supports WordPress, Movable Type/Typepad, Live Journal, Drupal, Windows Live Spaces and even Joomla.
Video's are uploaded to YouTube (so that you can watch them upon your phone), although I would recommend uploading them via Wifi unless you have a strong 3G signal.
CellSpin (iPhone: $1.99, Android: $1.99)
CellSpin is perhaps one of my favorite podcasting apps, although it was also one of the first (at least to memory) to embrace video blogging.
Similar to BlogPress, you can upload a video to multiple sites at once with a brief description underneath, although the videos are encoded with flash (making them un-viewable for iPhone fans).
CellSpin supports Blogger, WordPress, Windows Live Spaces, Live Journal and Typepad and is available for both Android users and iPhone lovers.
ShoZu (iPhone: $4.99, Android: Not Yet)
ShoZu is similar to CellSpin except that it gives users more blogging platforms to post to (like Vox, CellFish and many other "unknown" platforms).
While it does allow you to view the video's posted to your site via iPhone, it does not embed the video's directly upon your blog, forcing users to click through in order to watch the video.
The price is kind of steep for what it offers (as the user interface is not the greatest) so I would not recommend purchasing this app unless you blog upon Vox (or another random site).
PixelPipe (iPhone: Free, Android: $0.99?!)
Pixelpipe probably has more connections to more blog sites than any app that I have seen on the app store to date.
While the app does support video blogging, I did find it to be extremely buggy and the user interface was underwhelming at best.
Android lovers may have more luck than us iPhone cultists,  although the fact that Google phone fans are charged while iPhone users are not is something I found to be "slightly odd."
Any Others?
While there are more video blogging apps for Android (such as Blogaway and TAnDI), outside of Twitter there are very few video blogging apps for the iPhone.
Hopefully this will change in the future, especially with rumors about Apple launching a new iPhone equipped with a 5 mega-pixel camera.
Author:
Darnell Clayton
Darnell Clayton is a geek who discovered blogging long before he heard of the word "blog" (he called them "web journals" then). When he is not tweeting, Facebooking, or blogging about space and his beloved iPhone, he enjoys running, reading and describing himself in third person.