We all know that there are millions of WordPress users all over the globe. Wouldn't it be nice to see where they are located? With WPWorldMap.net, now you can!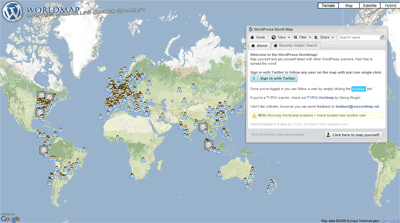 WPWorldMap.net is a new website created by Oliver Schloebe of WPSeek.com that lets WordPress users mark their location onto a map for others to see. Each marked location reveals user profiles complete with personal information, a link to their blogs, and also their Twitter accounts.
Powered by Google Maps, the site is relatively easy to use. To map yourself all you need to do is to place a pin marker on your location and then signing up by filling in the required fields on the site's registration form. It's so easy that it only takes a few minutes.
Surveying the world map, on the other hand, is as easy as clicking and dragging. You can zoom in and out and even display the world in terrain, map, or satellite form. There's also a search functionality that let's you search according to users. You can even add a filter if you just want to display WordPress users, developers, core developers, WordPress related companies, or even fans.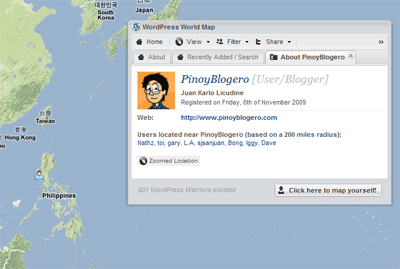 The great thing about this new site is that it gives us a good picture of how many WordPress users there are, not just in the whole world, but also in a particular country or area. This is great tool if you want to find out if there are any WordPress users near your location which is ideal for making new friends and for blog networking!
But of course, the site needs the cooperation of the community as it cannot populate itself. So if you don't mind revealing your location to others, why not sign up and map yourself now. Oh, and don't forget to share it to your friends!
Go WordPress Warriors!