One of the goals of operating a website or blog is to make them stand out among the sea of other sites and blogs on the internet. You want to be as unique as possible to enable recall and put your own mark of individuality. One of the best ways to do this is by producing code that is especially made for your website or blog. But producing code can be a herculean task especially if you know little more than a little HTML coding. What you need to do if you are looking to make code is to hire a company to do the code development for you. The challenge is to find the company that is best suited to meet your needs and have the skills and experience to deliver quality work. One company that has built a reputation for delivering high quality, professionally done code for websites is PSD2HTML.
PSD2HTML is a well respected company that specializes in converting web artwork to working code, like PSD to HTML. The company ensures that it comes out with quality output by hiring experienced web experts who produce codes that meet their clients' specifications.
Using PSD2HTML's services brings many benefits to a client. One of the biggest advantages is PSD2HTML's commitment to customer service. The company values customers so much that it has implemented a 24 hour live chat option that allows clients to get instant feedback with regards to their project. A click on the live chat button will bring the client immediately to a PSD2HTML staff who can discuss the details of the project. Even though the live chat staff is available only on weekdays arrangements can be made to extend work on weekends if it is necessary.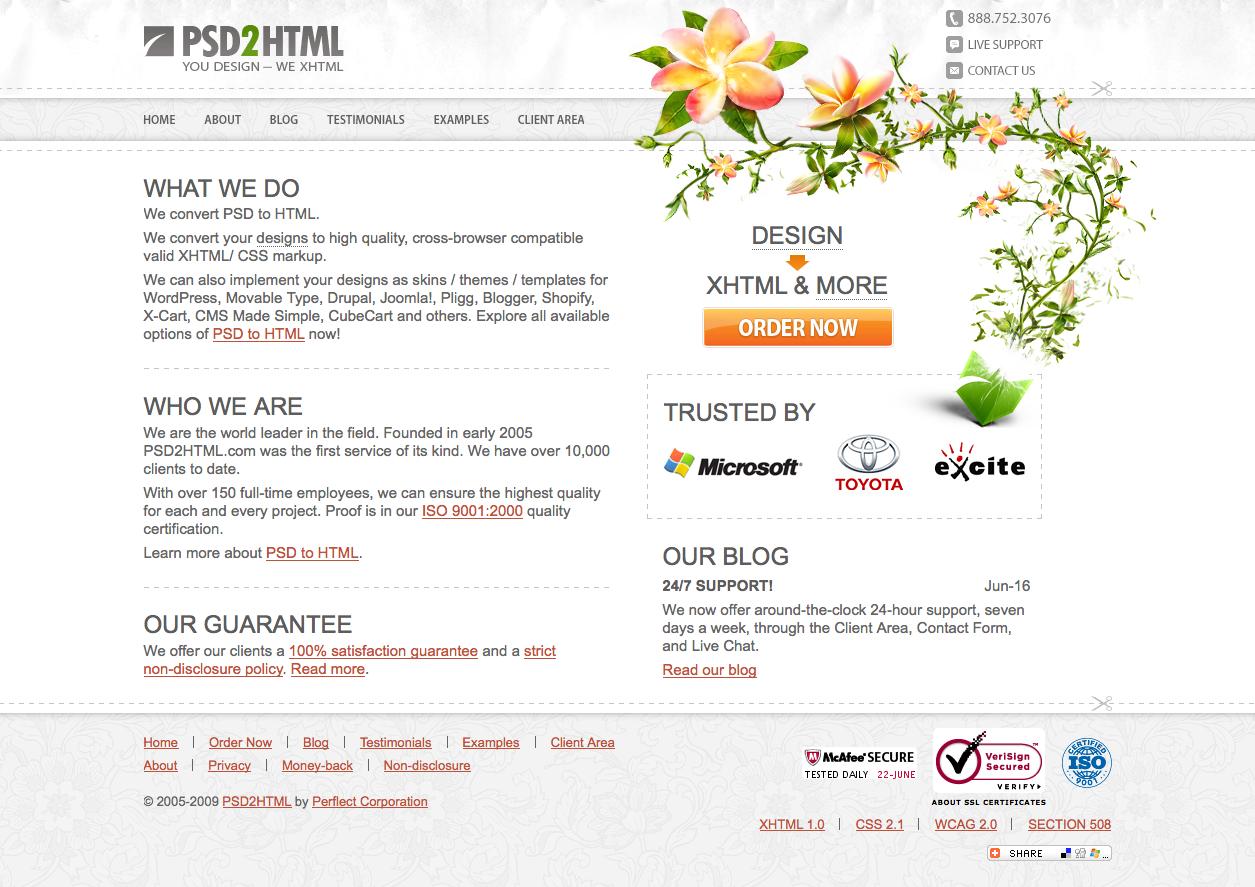 Feedback can also be obtained by using the other contact options available to the clients. Clients can send messages through an online contact form or they can call PSD2HTML's telephone number at +1 877 721 8040. This close collaboration with the client is PSD2HTML's way of ensuring that the client will get exactly what he asked for.
Whatever the markup needs of the client, PSD2HTML can address them. The PSD2HTML website has recently undergone a welcome facelift that has made the site easier to navigate and find the information that clients need. Among the services that PSD2HTML offers are:
• Templates for WordPress, Blogger and other blog engines
• Dreamweaver templates
• Email templates
• Design to semantic code conversion
The number of services that are being offered is easily more than what are currently made available to developers and website owners. This wide array of services is what makes PSD2HTML so popular and a "go to" place for developers.
PSD2HTML has made using their services easy for its clients. IT has made the whole ordering process more streamlined and easy to follow. A client will gather the files that he will submit to PSD2HTML then fill out the order form. He specifies all of his requirements in the form like browser compatibility and certain compliance parameters. The comprehensive order page enables the client to truly "personalize" his requirements, ensuring that what he gets exactly fits his needs. PSD2HTML allows for an unprecedented level of personalization that few companies can provide. There is actually a space within the order form that lets clients include other details that are not included in the established categories. Any extra information that the client wants to provide can be included here.
The client then completes payment in order to end the ordering process. Payments to PSD2HTML is very convenient because of the number of payment options available. In addition to Paypal and Google Checkout options, the company has recently implemented a new Direct Payment option that will let clients pay using major credit cards. Knowing how much the client will pay is also made easy by PSD2HTML. Getting a final quote is not a problem because each option that the client chooses is priced accordingly and is immediately reflected in the final price. This allows the client to add or delete options on the fly to see which configuration would fit both his needs and his budget.
After the whole process has been completed, PSD2HTML will provide the client with instructions on how the files will be received after it has been converted. The deadline set by the company is guaranteed, which is a big plus for any client since they will know exactly when to expect the final product.
And when it comes to quality, clients should never worry. PSD2HTML has built a reputation for making quality work. In fact, it has recently garnered an ISO 9001 : 2000 certification that proves it adheres to international quality standards.