I recently stumbled upon a July 2006 report by PEW Internet entitled Bloggers: A portrait of the internet's new storytellers (PDF) and I was intrigued that the word WordPress did not appear on the text a single time. In the telephone survey done to determine blogger- and blog-related data, the most used blogging platform was LiveJournal, then followed by MySpace, then Blogger.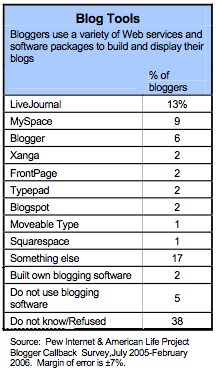 Where is WordPress here? I thought WP was almost synonymous with blogging already? Perhaps it's bundled in with the 17% "something else" group, and the 38% "don't know/rather not say" group. At any rate, I think it would also be interesting to know what BloggingPro readers use. Here's a simple poll I made.
The poll is limited to five choices, though. If you choose "Other," please do leave a comment on what software you're using. I would also be interested to know what made you choose the blogging platform you're currently using, be it included in the list or not.